February Engagement – Jared Frederick on "Reel History: Black Troops in Civil War Cinema"
02/17/2023
February Engagement – Jared Frederick on "Reel History: Black Troops in Civil War Cinema"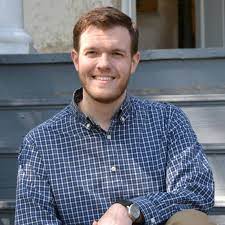 Join us on Friday, February 17, 2023, for a special program in honor of Black History Month, as historian Jared Frederick examines the portrayal of black troops in Civil War cinema.
In 2020, he partnered with Iraq War veteran and friend Andrew Collins to create the YouTube channel Reel History, which examines historical films with scholarly commentary and insight. The channel's audience continues to grow.
Frederick received his bachelor's degree in History from the Pennsylvania State University and his master's in History from West Virginia University, graduating with honors from both institutions. He is currently completing his Ph.D. in American Studies at Penn State Harrisburg. His dissertation topic will examine the hidden World War II history of the Gettysburg Battlefield. He currently serves as an Instructor of History at Penn State Altoona, where he specializes in various realms of American History—including the Civil War, Pennsylvania History, WWII, Film, and the 1960s.
Frederick, who is a Civil War and WWII reenactor, believes that the past can be taught in spheres beyond the classroom. He has served as a seasonal interpretive park ranger at Gettysburg National Military Park and Harpers Ferry National Historical Park. Having served as a commentator on the American Battlefield Trust's online Civil War in Four series, Frederick has also appeared on C-SPAN, PBS, PCN, in numerous National Park Service productions, and various online documentaries. In 2019, he acted as a guest host on Turner Classic Movies for the channel's 25th anniversary.
Frederick's presentation will trace the evolution of how black troops have been portrayed in feature films, from "Birth of a Nation" and "Gone With the Wind," to "Glory" and "Lincoln," to more recent films such as "Free State of Jones" and "Harriet."
Those who are unable to attend this engagement in person are invited to tune in to the lecture and Q&A session via Zoom. Click on the following link: https://us02web.zoom.us/j/81429377705
The meeting ID # is: 814 2937 7705. No password is required.
To dial in by phone call 1-301-715-8592 or click the following link for your call-in number: https://us02web.zoom.us/u/kVtLDIfK
Zoom participants should join the meeting by 7:30 pm.
Booking Now
Online bookings are not available for this event.