Preservation and Historic Site News
The Harrisburg CWRT adopted the monument dedicated to Brevetted Major General John White Geary on Culp's Hill, Gettysburg. Funds were provided for the refurbishment and an endowment established for future maintenance and upkeep of the monument. The Harrisburg CWRT sponsored the official dedication of his monument on August 11, 2007.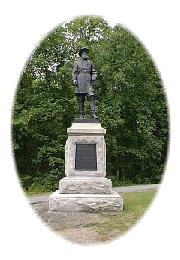 On October 22, 2017, members of the HCWRT will conduct the Fall Clean-up at Gettysburg National Military Park.  Members are scheduled to assemble at Power's Hill (corner of Granite Schoolhouse Lane and Blacksmith Shop Road) at 1:00 PM.
Directions: Take the Baltimore Street exit off of 15 south. Turn right off the ramp onto Baltimore Street. Before you get to the entrance of the park service visitor center, you will see McDuff's Miniature Golf. Granite Schoolhouse Lane is to the left before you pass the mini-golf course. The Powers Hill parking lot is on the left after you make the turn.
Preservation Donations
The Harrisburg CWRT donated to the Central Virginia Battlefield Trust. The Central Virginia Battlefield Trust was honored as one of the most successful Civil War preservation organizations in the country last year. They have recently made some purchases in the immediate area of the Chancellorsville National Battlefield Park. They are currently working to save other threatened areas.
The Harrisburg CWRT donated to the Willow Grove Cemetery Memorial Fund. The Soldiers Memorial at Linglestown has 39 names of Union Soldiers who were killed or died in service. These men lived in East Hanover, West Hanover, Susquehanna Township, and Paxtang Borough. It is a community effort to restore this monument.
The Harrisburg CWRT donated to the Brandy Station Foundation. The Brandy Station Foundation, after having a successful campaign to save threatened areas in th evicinity of the Saint James Church area, is working to preserve threatened areas of Fleetwood Hill, where the climatic clash of cavalry occurred in the afternoon.
The Harrisburg CWRT donated to Camp Curtin Historical Society and Civil War Round Table. Donations from the raffle of two Jenkins' bronzes will be used to help fund the General Albert Galatin Jenkins Monument at the farthest north Confederate brigade headquarters in the Gettysburg Campaign.
The Harrisburg CWRT donated to the Johnson Island Project near Sandusky, Ohio. This is to help the Union prison camp that housed Confederate officers and assist in the archeological work.
The Harrisburg CWRT donated to the Antietem National Battlefield, West Woods Restoration Project. Currently there are ongoing efforts to restore the four major woodlots that played important roles here.
The Harrisburg CWRT donated to the Central Virginia Battlefield Trust to be allocated to save as much of the doomed May 1st Chancellorsville Battlefield as possible. This battlefield is threatened by development and construction and probably will not exist in another year.
The Harrisburg CWRT donated to the Central Virginia Battlefield Trust to be allocated to save areas of the Chancellorsville Battlefield under extreme threat. Round Table members who participated in the May Field Trip learned that the MAy 1st battlefield where Sykes Regular Army Division fought troops under Stonewall Jackson on his next to last day of battlefield command is under immediate threat of development and some portions will almost certainly be lost.
The Harrisburg CWRT donated to the Civil War Preservation Trust to be allocated to save parcels of land of the Spottsylvania Mule Shoe.
The Harrisburg CWRT donated to the Civil War Preservation Trust to be allocated to save a tract of land comprising a key portion of Schoolhouse Ridge at the Harpers Ferry battlefield. This property is outside the current boundary of the Harpers Ferry National Historic Park. This area is where the Confederate soldiers under Stonewall Jackson deployed to defeat the Union positions on Bolivar Heights.
The Harrisburg CWRT donated to the Seminary Ridge Historical Foundation to preserve the historic buildings of the Seminary property and to establish a 15 point wlaking path to interpret the history of the Seminary grounds.
The Harrisburg CWRT donated to the Gettysburg Battlefield Preservation Association for the Lady Farm along Hanover Pike east of town. Repairs to the building and an archeology dig are just some of the projects there. There have been numerous interesting artifacts recovered.
The Harrisburg CWRT donated to the Civil War Preservation Trust to preserve land at Hatcher's Run, located southwest of Petersburg. Part of the Petersburg Siege, Union and Confederate Forces engaged at Hatcher's Run on Februaty 5, 1865.
The Harrisburg CWRT donated to the Civil War Preservation Trust to help purchase 56 acres of the Brandy Station battlefield around Fleetwood Hill. The property, which includes the site of J.E.B. Stuart's headquarters, will unite two previously preserved tracts.
The Harrisburg CWRT donated to the preservation of North Ana.
The Harrisburg CWRT donated to the preservation Lee's Headquarters at Gettysburg.
The Harrisburg CWRT donated to the preservation at Antietem.
The Harrisburg CWRT doanted to the preservation at Burkittsville'