"General, They Are Here": The Struggle for Spotsylvania's Mule Shoe
Join us on Friday, March 15, as celebrated author Jeffry C. Wert recounts the desperate, hand-to-hand combat that took place at Spotsylvania Court House during the Overland Campaign of 1864.
The Union assault on the Confederate defenses at Spotsylvania, known as the Mule Shoe, on May 12, 1864, triggered unrelenting combat for roughly twenty hours, with the opposing Yankees and Rebels fighting at places only the length of a rifle barrel apart. Nothing in these veteran troops' experiences compared to this day. Their accounts of the struggle are graphic and compelling.
Mr. Wert is a retired high school history teacher and a prolific and award-winning Civil War historian. His book on this presentation, The Heart of Hell: The Soldiers' Struggle for Spotsylvania's Bloody Angle, received the Atlanta CWRT's Harwell Award in 2023 and the Austin CWTR's Laney Prize for the best book published on a Civil War subject in 2022. His presentation will better prepare those who participate in our field trip to Spotsylvania Court House on May 4, 2024, for that experience.
Those who are unable to attend this engagement in person are invited to tune in to the lecture and Q&A session via Zoom. Click on the following link: https://us02web.zoom.us/j/84616319733. No password in required. To dial in by phone, call 1-301-715-8592 or click on the following link: https://us02web.zoom.us/u/kdIVva0tyI. The meeting ID # is 846 1631 9733. Zoom participants should join the meeting by 7:00 pm.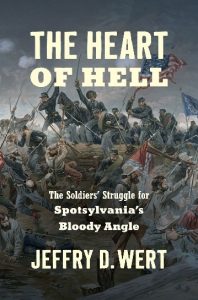 Bookings
Do you already have an account with us?
Sign In
Log in if you already have an account with us.