The Good, the Bad, the Ugly, and the Mediocre: Leadership in the Battle of South Mountain
Join us on Thursday, June 6, for our annual Nye-Sommers lecture, which will be presented by D. Scott Hartwig, the leading authority on the Maryland Campaign of 1862. The Nye-Sommers lecture honors two pillars of the Harrisburg CWRT, Colonel Wilbur S. Nye and Dr. Richard J. Sommers.
Fought on September 14, 1862, The Battle of South Mountain was the important prelude to the Battle of Antietam on September 17, 1862. The landscape of the battlefield was rugged and confusing for the participants and posed numerous challenges for the leaders of both sides. It was also a battle that neither army planned, what a modern soldier would describe as a meeting engagement. This program will analyze and assess the performance and decisions of the key leaders of the action that unfolded at Turner's, Fox's and Crampton's Gaps.
Scott Hartwig retired in 2014 as the supervisory park historian at Gettysburg National Military Park after a 34-year career in the National Park Service, nearly all of it spent at Gettysburg. He won the regional Freeman Tilden Award for excellence in interpretation in 1993, and was a key player for the design of all aspects of the new Gettysburg museum/visitor center. He is the author of To Antietam Creek: The Maryland Campaign from September 3 to September 16, published in September 2012 by Johns Hopkins University Press, and I Dread The Thought of the Place: The Battle of Antietam and End of the Maryland Campaign, published in August 2023.
Those who are unable to attend this engagement in person are invited to tune in to the lecture and Q&A session via Zoom. Click on the following link: https://us02web.zoom.us/j/86461282203. No password is required. To dial in by phone call 1-301-715-8592 or click the following link for your call-in number: https://us02web.zoom.us/u/kdxCxtAl4X. The meeting ID # is 897 3393 0929.
Zoom participants should join the meeting by 7:00 pm.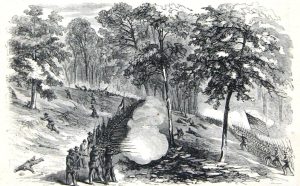 Bookings
Do you already have an account with us?
Sign In
Log in if you already have an account with us.