May Engagement – Dr. James J. Broomall – At the Cannon's Mouth: Battlefield Relics & the Making of Civil War Memory
05/20/2022
May Engagement – Dr. James J. Broomall – At the Cannon's Mouth: Battlefield Relics & the Making of Civil War Memory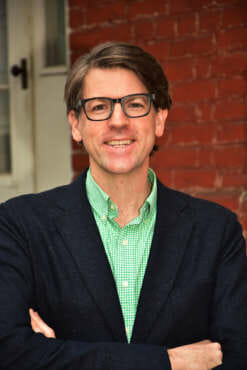 Join us as Dr. James J. Broomall explores the connection between battlefield relics & the making of Civil War memory.
This engagement will be held via Zoom only. Previous plans to hold it as a live meeting have been cancelled.
From Colonel Elmer Ellsworth's death coat to the shattered tree stump of Spotsylvania, Civil War Americans actively collected and displayed objects of war. This talk will explore the lives of artifacts after they were taken from the field of action in order to understand how they informed the construction of memory. Objects with violent histories both contested and confirmed the nineteenth-century's prevailing discourse of romanticism. On the one hand, Americans clung to things connected to death and violence. On the other hand, Americans projected violence as regenerative to justify bloodshed.
Dr. Broomall holds the Ray and Madeline Johnston Endowed Chair in American History and is the director of the George Tyler Moore Center for the Study of the Civil War at Shepherd University in Shepherdstown, West Virginia.
He is working on a new book entitled "Battle Pieces: The Imagery and Artifacts of the American Civil War Era." He is researching how Americans consumed the wartime experience, pointing out that almost as soon as battles ended, people descended onto battlefields to collect artifacts that ranged from human bones, sculls, and hair, to uniforms, bullets, weapons, wood with bullet holes, and other items that often ended up in large collections found in self-curated museums that popped up around battlefields in the late 1800s and early 1900s.
The book runs from the pre-to-post Civil War eras and is themed around these different representations of death and violence. On one hand, there was a heroic discourse that had been part and parcel of how Americans understood war—grand charges, depictions of mutual heroism, very grand scenes that were rooted in an earlier European tradition of the grand history painting. However, the violence of the American Civil War changed that vision because of the scale and uncertainty of the conflict and the velocity of small arms and artillery fire resulting in blasted landscapes and human carnage.
Dr. Broomall is the author of Private Confederacies: The Emotional Worlds of Southern Men as Citizens and Soldiers (UNC Press, 2019) https://www.uncpress.org/book/9781469651989/private-confederacies
Time: Friday, May 20, 2022, 7:30 PM Eastern Time (US and Canada)
Please join Zoom meeting no later than 7:15 pm:
Or dial in by smart phone: 301-715-8592
Meeting ID: 857 2003 6537
No password is required.
Booking Now
Online bookings are not available for this event.