November Engagement – John S. Heiser on "The Grand Reunion of 1913"
11/11/2022
November Engagement – John S. Heiser on "The Grand Reunion of 1913"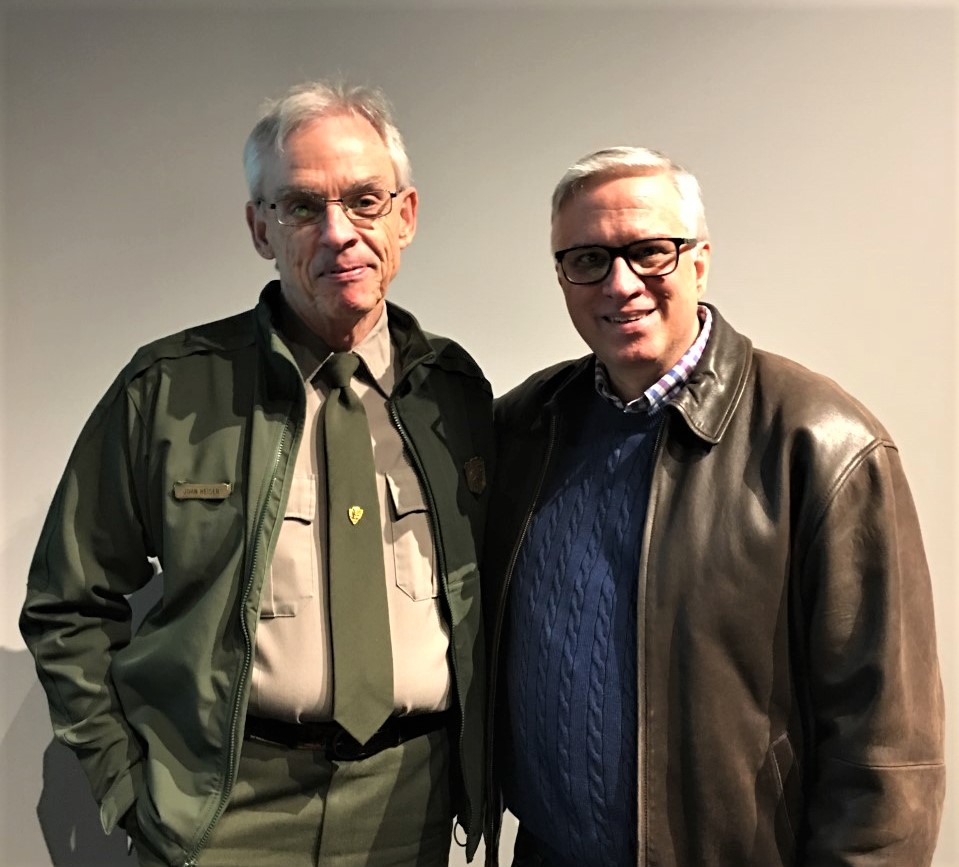 Join us on Friday, November 11, 2022 for a special Veterans Day event, as retired NPS Ranger John S. Heiser takes us back to the Great Reunion of Civil War veterans on the Gettysburg battlefield in 1913.
It was hoped to be a unique encampment, a massive reunion of Union and Confederate veterans gathered together on one of the most significant of Civil War battlefields to observe and celebrate the 5oth anniversary of the Battle of Gettysburg, what many considered to have been the "High Water Mark of the Rebellion." Not only was it an opportunity for Pennsylvania to host such a momentous event, it was a chance for the United States Government to showcase the transformation of Gettysburg from battlefield to memorial park, where the armies of both North and South would forever be memorialized.
The response from veterans North and South was overwhelming - over 50,000 old soldiers came to Gettysburg. Not only were there veterans of Gettysburg but men those had fought under McClellan at Antietam, Jackson in the Shenandoah Valley, Sherman in Georgia, Grant in Tennessee, Bragg in Kentucky, Hood at Atlanta, and Ord at Appomattox. It was an overwhelming mass of old soldiers, former foes, a gathering that some believed would be a disaster with no good coming from it. But America was at a turning point, both socially and internationally, and the politicians who chose to ignore the event were caught off guard by its significance and the spirit of brotherhood and unification exhibited by former enemies who camped side by side on the battlefield where so many of them had lost comrades and risked so much to decide the fate of this nation 50 years before. Was this Great Reunion finally the "national reunification" so many had hoped for 50 years after the final shot had been fired?
Born and raised in Raleigh, North Carolina, Heiser attended Needham Broughton Sr. High School in Raleigh, and Western Carolina University in Cullowhee, North Carolina, from which he graduated in 1978 with a Bachelor of Arts Degree in American History. His National Park Service career began in 1976 as a seasonal employee at Fredericksburg and Spotsylvania National Military Park in Fredericksburg, Virginia, before moving to Gettysburg National Military Park as a seasonal park ranger/interpreter in 1980. During his time at Gettysburg he worked in Visitor Services, the Park Historian's office, the Structures Preservation Shop, and Division of Maintenance. In 1997, Heiser moved to the historian's position in the Division of Interpretation and Visitor Services where he designed and maintained the park's web site, managed the park's library services, assisted researchers, and provided battlefield programs, a position he held until his retirement in 2020.
Outside of his park service career, he is probably best known for maps he produced for numerous books on Gettysburg including Morningside Bookshop's Gettysburg Magazine from 1989 to 2002, and several other histories of the war. From 1998 to 2009, he was the historian of the Polar Bear Association of World War II, an organization of veterans who served in the 339th Infantry, 85th Infantry Division from 1942 to 1945. He and his wife, Carmen, who retired after 34 years of teaching eighth and fifth grade students in New Oxford, PA, live in Gettysburg with Annabelle, their happy Scottish Terrier, where he continues to pursue his interests in military history, music, and cycling while maintaining steadfast faith in the Baltimore Orioles baseball team.
Those who are unable to attend this engagement in person are invited to tune in to the lecture and Q&A session via Zoom. Click on the following link: https://us02web.zoom.us/j/88305135079
The meeting ID # is: 883 0513 5079. No password is required.
To dial in by phone call 1-301-715-8592 or click the following link for your call-in number: https://us02web.zoom.us/u/kcLZS78Hfu
Zoom participants should join the meeting by 7:30 pm.
Booking Now
Online bookings are not available for this event.