October Engagement – Peter Miele on "Dr. W. W. Keen and the Advancement of Civil War Medicine"
10/21/2022
October Engagement – Peter Miele on "Dr. W. W. Keen and the Advancement of Civil War Medicine"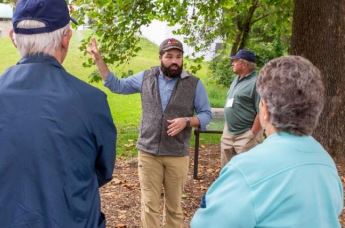 Join us on Friday, October 21, 2022 as Peter Miele examines the trajectory of the remarkable career of Dr. W. W. Keen, the Forrest Gump of American medicine.
William Williams Keen was born in Philadelphia in 1837 and graduated from Brown University and Jefferson Medical College. He was a young medical student when the Civil War erupted. Untested and untrained, he was thrown into treating suffering soldiers at the First Battle of Bull Run. Four years later, he emerged from the crucible of war as a pioneer in treating injuries of the nervous system.
Keen served as a surgeon for the Fifth Massachusetts Militia Regiment and then for the Union Army during the war. He built a reputation for his work with patients who had neurological wounds, mainly because most surgeons refrained from treating such wounds. He also worked with S. Weir Mitchell to study nervous system injuries. Together, they published Gunshot Wounds and Other Injuries of the Nerves and Reflex Paralysis in 1864, which first described many unknown neurological conditions, such as causalgia, reflex sympathetic dystrophy, and secondary paralysis.
After the war, Keen studied in Paris and Berlin and went on to have an illustrious career as a world-renowned surgeon. He was the leader of a team of surgeons that removed a cancerous tumor from President Grover Cleveland's jaw, and he diagnosed Franklin Delano Roosevelt with polio in the 1920s. He died in 1932 at the age of 95, having witnessed enormous advancements in the field of medicine over the course of his lifetime.
Peter Miele is Executive Director of Seminary Ridge Museum and Education Center and President of the Seminary Ridge Historic Preservation Foundation. After beginning his career as a high school educator, Miele began working in the museum field in 2013. He holds a B.A. in History from Ramapo College of New Jersey and an M.A. in Applied History from Shippensburg University of Pennsylvania. He is currently pursuing a Ph.D. in American Studies at Penn State, Harrisburg.
In addition to museum work, Miele is actively engaged in the community. He is Vice-President of the Civil War Roundtable of Gettysburg and Treasurer of Main Street Gettysburg. In 2016 and 2018, he served as an Adjunct Instructor for Shippensburg University's History/Philosophy Department. A frequent lecturer, Miele has presented at national conferences of the Society of Civil War Historians, the American Association of State and Local History, the National Council for the Social Studies, and the American Battlefield Trust. His essay, "Men, Morality, and Misbehavior: A Social Study of the World War I Camps at Gettysburg and the Town that Surrounded Them, 1917-1918" was included in Duty Calls at Home: Central Pennsylvania Responds to the Great War (Shippensburg University Center for Applied History, 2014). He and his wife, Kara, live in Gettysburg.
Those who are unable to attend this engagement in person are invited to tune in to the lecture and Q&A session via Zoom. Click on the following link: https://us02web.zoom.us/j/88662788524
The meeting ID # is: 886 6278 8524. No password is required.
To dial in by phone call 1-301-715-8592 or click the following link for your call-in number: https://us02web.zoom.us/u/kdGlEFPsF5
Zoom participants should join the meeting by 7:30 pm.
Booking Now
Online bookings are not available for this event.