September Engagement – Common Soldiers and the Environment in 1862 Virginia – Virtual Engagement VIA ZOOM
09/18/2020
September Engagement – Common Soldiers and the Environment in 1862 Virginia – Virtual Engagement VIA ZOOM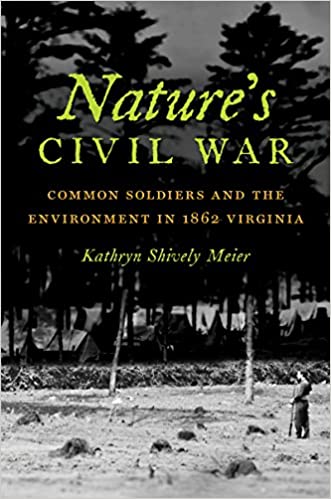 Doctor Kathryn J. Shively is an Associate Professor at Virginia Commonwealth University where she specializes in military history, the American Civil War, and environmental history. She received her Ph.D. in 2010 from the University of Virginia. Dr. Shively's research and teaching interests involve the evolution of America's armed forces from the 1600s through the late nineteenth century, with a particular focus on the interactions of soldiers with their "natural" environments and soldiers' mental and physical health. To this end, her first book, Nature's Civil War: Common Soldiers and the Environment in 1862 Virginia, winner of the 2014 Wiley-Silver Prize for best first book on the Civil War, explores how enlisted soldiers adapted to the mental and physical challenges of their wartime environments by adopting self-care techniques, from eradicating mosquitoes to boiling water, and informal networks of health care, including African Americans, women, and, of course, each other. For the last decade, she has been working on a biography of Confederate General Jubal Early.
In her talk entitled, "Nature's Civil War: Common Soldiers and the Environment in 1862 Virginia," Dr. Shively will explain that Civil War soldiers perceived their environments as responsible for their deteriorating physical and mental health during the Shenandoah Valley and Peninsula campaigns. In response, soldiers developed self-care techniques, from eradicating insects to straggling for shelter, in order to combat their natural enemies. The stakes were high, as two-thirds of soldier mortalities resulted from disease rather than combat.
Topic: Harrisburg CWRT September 2020 Engagement
Time: Friday, September 18, 2020 07:00 PM Eastern Time (US and Canada)
Join Zoom Meeting
Meeting ID: 859 1767 0077
Passcode: 113045
Or dial in by phone: +1-301-715-8592
Booking Now
Online bookings are not available for this event.